I had quite an enjoyable time exploring an overwhelming number of lipsticks today with my lovely best friend! However, we realized that we, amateurs that we are, did not know how to properly find the appropriate lip colors for our respective skin tones. Do we swatch on our hands or the insides of our wrists? Do we find reds with blueish tints or yellow tints? It's so confusing!
When I went home, I decided I
had
to know, so I found some helpful tips on red lipsticks for all you other curious lipstick beginners out there!
Collegefashion.net:
Cool-toned reds are blue-based reds that tend to look slightly pink. These shades of red look best on girls that have cool, rosy undertones, meaning skin tones like porcelain and ivory, rose-beige, and medium beige.
Warm-toned reds are yellow-based reds that tend to look slightly orange. These shades of red look best on skin with yellow undertones like sand beige, golden medium, or olive skin.
Shades of red that aren't 100% cool or warm are considered neutral. These shades can work with many different skin tones and can look different on everyone. Neutral reds are also considered "true reds" because they don't look pink or orange.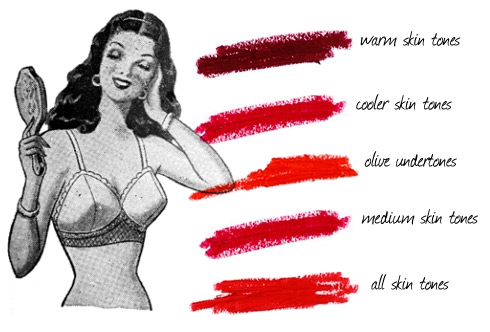 Fair skin (Glamour)
Medium skin (Glamour)
P.S. Make sure to use lip liner!