Hello hello! This is my first time doing a "favorites" post and woohoo I've always wanted to do one because it seems so fun! And it's probably a good way for me to remember what I liked in the past in case I want to repurchase something (since I have a
really
awful memory). So here we go!
1. Tigi S Factor Smoothing Shampoo + Conditioner: I got this set after watching
Zoella's hair care routine video
and it is
fantastic.
I've heard that after you use a shampoo/conditioner for a while, your hair gets used to it somewhat and it's not quite as effective anymore, so I picked these up at Ulta and they make my hair feel so light and smooth. Also, they
do
smell like strawberries and cream, but the scent isn't super strong; it's quite subtle which is nice and non-headachey.
2. Bare Escentuals Buxom Mascara: I love this mascara so much. I've begun to notice the difference between high-end and drugstore mascaras (the ones I use, at least), which is that the high-end mascaras feel much less wet and more natural. This one in particular is no exception. I really love this mascara for an everyday one or two coat routine because it can be very light and natural, but it's also buildable.
3. Revlon Colorstay in Normal/Dry: I finally caved and got this foundation after hearing so many rave reviews, and it does not disappoint. The coverage is indeed full with a matte finish, but it still feels very light and smooth. I like the formulation and how blendable it is. Sadly, I got it a shade too light so I have to go out and repurchase it now (the trouble with drugstores).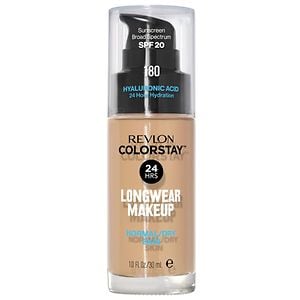 4. NYX Jumbo Eye Pencil in Yogurt: Ah, these jumbo eye pencils make me so happy. They're super convenient and this one in particular is a lovely shimmery light brown shade that really opens up the eyes when applied to the inner corners. I love how creamy and smooth it is! Must get my hands on more.
5. Sage & Citrus Yankee Candle: Love this smell so much. Subtle yet soothing and ah... I love Yankee candles so much. You can just leave one open and the scent will permeate the room even without lighting the candle. I keep this one on my dresser.
6. Nature Valley Trail Mix Fruit & Nut Chewy Granola Bar: Ugh is that a mouthful of a name or what? I'm not even sure if I got it right hahaha but these are delicious nonetheless. They're 140 calories per bar (is that good? I dunno) and ohhh my goodness let me just say it again... they're delicious. I can't explain it. They're just so good and the perfect size. They can fit in my jacket pocket!
7. Clueless: I just watched this movie yesterday on Netflix and it's hilarious. I'm probably ridiculously behind since this is like a 90s cult classic, but oh man it's just great. Main character Cher is fantastically portrayed and so endearing and amusing. I did find the ending a bit abrupt and some of the loose ends not totally tied up, but whatever I'm not that stringent with movies anyway. It made me happy so yay I like it.